Heating & more in Mayer
We're your full-service plumbers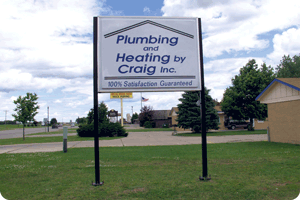 Trusted technicians
Plumbing and Heating by Craig guarantees you'll be satisfied with the workmanship and professionalism of our plumbing and heating technicians. We treat your home like we'd want ours to be treated – no shoes on the carpet, no smoking or swearing, and no messes when we leave. If you're not 100 percent pleased with our performance, let us know, and we'll make it right.
In the clear
Why do sinks, toilets, and bathtub drains get clogged? Sometimes, build-up is caused by oil and hair. Objects like jewelry and toys can also become lodged in drains, making them unusable. When stuff gets stuck, call Plumbing and Heating by Craig, and we'll be at your home in Mayer in no time.
Made for Mayer
Finding a certified plumber near Mayer is simple. Plumbing and Heating by Craig proudly serves homes and businesses in Mayer and the surrounding Carver County area. Give us a call today at (952) 442-8252 to see how we can help!
Experts since 1991
Our company began in 1991, with the goal of providing top-quality plumbing, heating, and air conditioning service to local homeowners. As we look back on the past two decades, we're grateful for the many loyal customers who helped make our dream a reality. We hope you'll consider seeing what Plumbing and Heating by Craig is all about.
Ahh, air
Keep your household healthy and comfortable with Plumbing and Heating by Craig's indoor air quality services. Ask us about ventilation, humidification, air purification systems, duct cleaning, and air quality tests. We're here to help!Better safe than sorry
During Minnesota's winter months, a broken furnace can be a major discomfort and safety concern – not to mention a financial pain. That's why Plumbing and Heating by Craig offers an annual maintenance program called "Comfort Club." Customers receive yearly care for their heating and cooling systems, as well as a discount on any needed repairs. Contact us today to learn more about Comfort Club benefits.